Christmas Party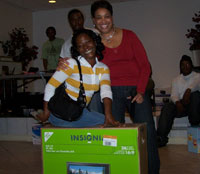 This year at the second annual FWL & Sons, Inc Christmas party, the crew members and management staff were pleasantly surprised with an abundance of gifts and food provided by the leadership team.
This year, Freda spent over $10,000 to show her appreciate to the crew members and management. She feels that her employees are the most valuable asset to the organization and really wanted to express her gratitude. A few items that were given away included.... (2) plasma televisions, (4) digital cameras, (1) laptop, (12) one week vacations with pay, (2) digital camcorders, and cash gifts.
It was a small way for FWL & Sons, Inc to say thank you to the employees for all their hard work and dedication to the organization.
The event was catered by His & Her Catering Service and music was provided by DJ Shocase. Rodney Henry served as host for the evening.